Miryam Haddad : Beyond the Artistic Confines
22/09/2022 by Syreen Forest
Artistic awakening[1]
Miryam Haddad is a Syrian painter who was born and raised in Damascus, Syria. After studying at the Damascus School of Fine Arts, Miryam entered the Paris School of Fine Arts (Beaux-Arts de Paris) where she devoted herself to painting. Her work has since been exhibited in multiple institutions (including in galleries, art fairs and art collections), work that led her to win the Jean-François Prat Prize[2] in 2019. When we meet with Miryam in her artist's studio, she is about to have her first solo exhibition at the Armory Show in New York.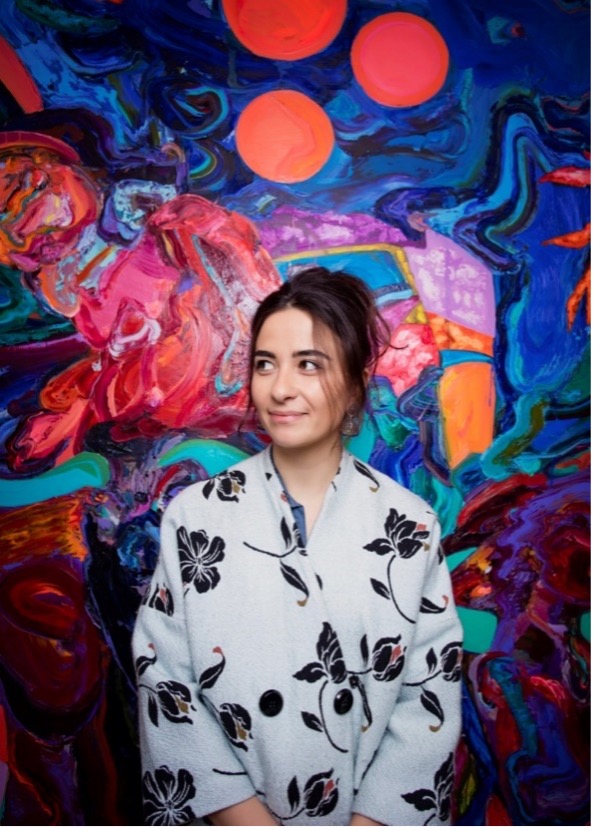 Mirroring her art, the choice of painting was an obvious one, one that revealed itself through a dreamlike experience: the artist remembers that when she was barely 10 years old, she was drawing, sitting on the floor in her residence in Damascus. Seeing the joy that filled her with the act of drawing, Miryam Haddad realised that she wanted to dedicate her life to painting. It was her father who told her that she would have to study fine arts if she wanted to become a painter, a rather unusual profession in the Middle East. It was also during that time period that she learned for the first time that her father, an actor by profession, had also studied fine arts when he was younger and that he was a painter himself, a sign that painting is both a gift and a piece of heritage.
Despite the risks inherent to the profession of painter – and all the more so for a woman in the Middle East but also in Europe[3] – Miryam continued her art studies. Being given total freedom, her experience at the Fine Arts Institute in Paris contrasted with her training at the Fine Arts Institute in Damascus where, despite the lively exchanges between students and peer learning, Miryam deplores the fact that « we paint but we don't see paintings ». This is reflected in the lack of literary references on the history of art in Arabic and the limited number of galleries and museums in Damascus. This state of affairs is part of a broader historical context, notably that, in part, of the religious iconoclast, which saw the rise of the art of calligraphy.
Painting as a timeout
In relation to her painting, Miryam Haddad shows reluctance to define it, which would contribute to restrict its scope and its intrinsic artistic qualities. The artist prefers to qualify her painting in temporal terms inasmuch as her paintings provide an opportunity for the viewers to mark a pause in their wandering, to contemplate and ponder upon the exhibited art, which constitutes a way of countering the speed with which we generally consume art and visit museum.
Establishing a parallel with musical pieces that can be savoured from beginning to end, just like books and films, Miryam Haddad wishes, through her works, to hold the viewers for a moment so that they « are in relation with the painting ». To this end, the artist relies in particular on the play of colours, varied and flamboyant, which catches the viewer both intellectually and physically and who, faced with this pictorial complexity, is obliged to linger a moment to decode the colours and patterns that are shown.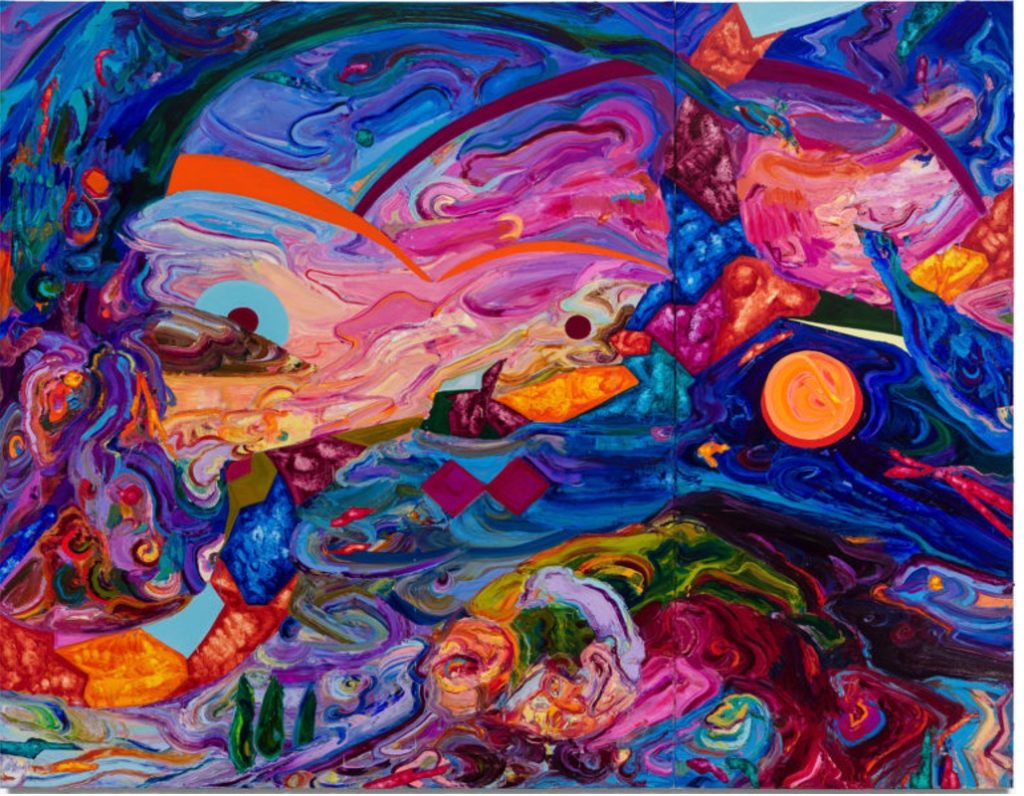 The work of Miryam Haddad offers a medium of synesthetic experience. The senses are activated and on the lookout for this visual spectacle: the eyes, of course, but also the ears (the juxtaposed scenes, the play of colours, the iridescent and varied motifs are reminiscent of the great musical symphonies) or even the sense of smell when paintings feature motifs of aromas that one would like to smell. In this respect, Miryam Haddad is less interested in the juxtaposition of music and painting than in bringing out of her paintings the « melody of the painting itself » during the suspended time granted to artistic contemplation. 
The artist calls upon multiple sources of inspiration to bring out this melody in her works.  Miryam Haddad cites, among her sources of inspiration, cinema as well as poetry and literature. This anchoring in pictorial, literary and musical intertextuality is made visible to all during exhibitions, such as the one entitled "Entre tes yeux et les images que j'y vois" (« Between your eyes and the images I see in them ») at the Pernod-Ricard Foundation in Paris (April-June 2022), where the artist's triptych, "Garde le regard sur ses égards" (« Keep your eyes on their regards »), was accompanied by adjacent works, including a collection of poems by the Palestinian poet Mahmoud Darwish. Beyond the traditional sources of inspiration, Miryam Haddad also counts nature and imagination that are not foreign to the dreamlike atmosphere that emerges from the works of the artist.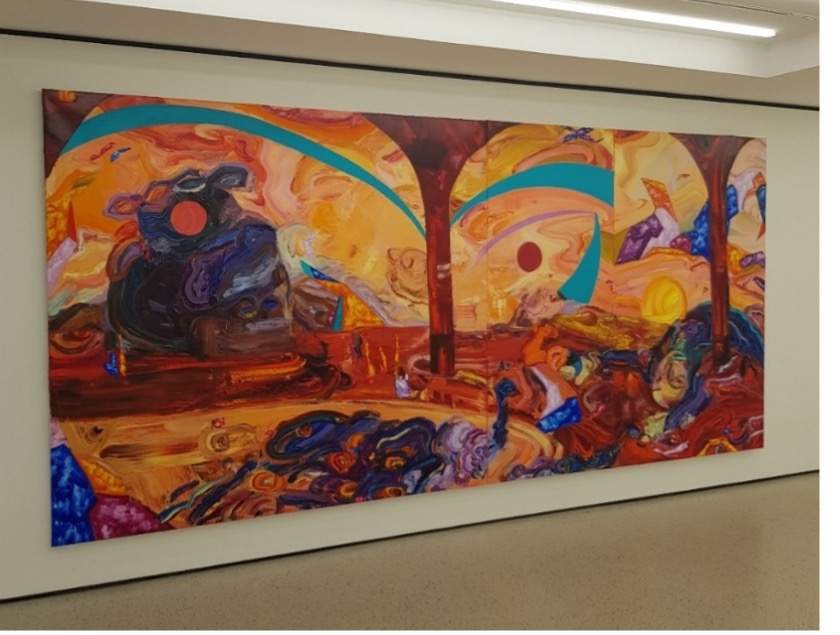 Reclaiming the self and magnifying heritage
From Eugène Delacroix to Jean-Auguste Dominique Ingres, to Maurice Bompard and many others, the French Orientalist movement of the 18th and 19th centuries, both literary and artistic, depicted the countries of the Middle East and North Africa according to traditional themes meant to represent the region called « the Orient »: fantasised harem settings, war scenes, or dreamlike desert landscapes. This external and essentialist view of the Arab region can be best defined by what the American-Palestinian intellectual Edward Said called « Orientalism ».[4]   
This is why Miryam Haddad, who arrived in France in 2012, a year after the beginning of the war in Syria, initially refused to represent the war and the melancholy of a lost land in her works so as not to be consigned to this one-dimensional identity. The originality of her painting consists in exaggerating the colours of her paintings, to which she decided to proceed at a later stage: through bright colours that, at first glance, denote a spirit of celebration and hope, Miryam Haddad invites the viewer to look closer and see these same colours transform into harsher and more violent realities. In doing so, the artist uses these changing mosaics as a medium to give another image of both herself and her country. 
At the same time, while all her references came from the Western pictorial tradition, the artist questioned her own identity as a woman from an Arab country. Miryam Haddad then felt the need to return to other sources of inspiration, particularly Arab influences. As a result, she has increasingly resorted to Arabic calligraphy and has included, within her works, sites of Arab heritage and symbols representing the region, motifs that now form the basis of her artistic compositions.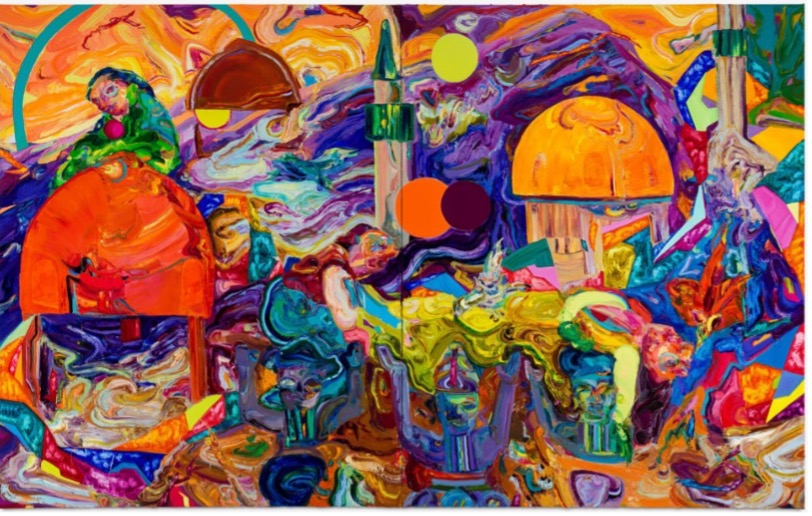 Of these drawings of heritage sites, we can often only surmise their shapes and outlines. It was for personal reasons that Miryam Haddad began to include built heritage in her work, when statues and sculptures were destroyed, notably by the Islamic State organisation in Palmyra. After years of drawing statues from the collection of the National Museum in Damascus, the artist realised that this heritage could disappear. She then felt the need to represent this endangered heritage in order to « protect these sculptures, in one way or another, on the canvas ».
Thereafter, Miryam Haddad hopes to see her paintings exhibited in the Arab region, and particularly in Syria, in order to make her works known and, through them, to continue to keep alive this heritage depicted according to the artist's original vision.  
---
[1] This article is based on an interview by the author with Miryam Haddad at the artist's studio on July 7, 2022.
[2] Created in 2012, the Jean-François Prat Prize is a contemporary art prize intended for emerging artists of all nationalities.  
[3] In France, according to figures from the 2022 Observatory of Equality between Women and Men in Culture and Communication, 62% of students in higher cultural education institutions and 68% in the visual arts are women. However, in 2019, women represented only 45% of the active workforce within the cultural professions (p. 6): https://www.culture.gouv.fr/Thematiques/Etudes-et-statistiques/Publications/Collections-d-ouvrages/Observatoire-de-l-egalite-entre-femmes-et-hommes-dans-la-culture-et-la-communication/Observatoire-2022-de-l-egalite-entre-femmes-et-hommes-dans-la-culture-et-la-communication
[4] In his book Orientalism (published in 1978), Edward Said describes the reductive and essentialist vision of the Orient as seen through the prism of Western observers based on « the ontological and epistemological distinction made between 'the Orient' and (most of the time) 'the Occident'."
Photo credit at the top of the article : « Un ciel volé », Miryam Haddad – FRAC Auvergne ©Miryam Haddad